Even adding a small sheet on the inside of the rear steel panel (wouldn't have to be over the whole surface) would help damp any excess noise/resonance from the buttons 'rattling' when being used.
It needs some trials

A tact switch soldered to the board (compared to a dome directly applied) can't be so much more noisy ??
It's the same item effectively as you point out , maybe it's the inevitable looseness of the little button (on top of some tacts) that adds the noise ?
The concave metal dome snaps inside out when pressed.
As I understand it, the ratio of the diameter to the hardness of the dome is in some relation to how noisy it is.
HP used very large domes on the Voyager series too, see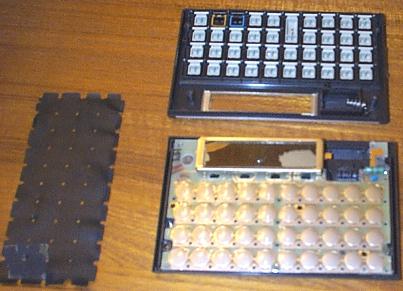 Or the ratio of the area of it to the hardness? Perhaps so that a little increase in the diameter yields a non-linear result in tactile resistance and/or noise?
DM42 #40 running C43 | DM41X #50 | various HP models
The earth is flat. It just appears round because it is massive and curves spacetime.
Hi all,
Sorry. I am so dumb. Do you get tactile feedback with DM42 units? I mean what feedback do you get when you press a key, other than the number corresponding to the key pressed appearing on the screen? I get nothing. I can feel I am pressing a key, but other than that I don't have anything.

Also reading about clicking noise. Somehow I can't enable sound with CF or SF 26. Tried fiddling with Quiet mode. But can't get sound.

Regards
Prasad.
Hi prasad22,
you're not dumb!
You simply came across a new topic the first time...that's all.
"Tactile feedback" in the context of keyboards and keys means:
Close your eyes. Press the key. At the certain point you feel first a
arise of force needed to achieve any little movement of the key and
short after that all stored "force" ("I am your father, Luke..."
) is released
in a sudden exactly at that moment the circuit is closed and the CPU "gets the command"
to print the information related to the key pressed to the screen (or do something
or whatever).
If you can tell that moment with eyes closed and not hearing anything -- that's
called "tactile feedback". Old IBM model M keyboards ("There is no key board than a IBM Model M keyboard" Amen
.
are great in heaving a great tactile feedback. According their sound they are machine guns for the desktop, though.
Modern rubber dome keyboards are awful in this regard. Notebook keyboards and that alike for the desktop are even
worst.
Therefore one invents the "click _sound_". That is: Using a rubber dome keyboard every time the CPU registers a
key being pressed it emits a "clck" sound via the speakers (or whatever) of the computer.
But this is the wrong thing done the wrong way: You have to hammer down the key and gets the feedback from the computer then.
If -- in case of the IBM Model M or some types of Cherry clicky switches -- the click is generated by the keyboard just in the
moment the circuit is closed, you need not to hammer down the key until it get stopped by the PCB. This makes typing much faster
(and stops my hands from acheing) and healthier. But this is only my own little private fight for better and mechanical keyboards.
In case of the DM42:
They have -- if correctly assembled and with a little luck -- a _tactile_ feedback and a little audible (mechanically created) "click".
Since the keys have to travel only a very short way and the contact switch is a the end of that way (the PCB itself) you always have to
"""hammer down the keys"""...but this really will not hurt your hands...too little force and too few keys pressed.
There is no electronical created "click" sound since it is not necessary if the keyboard works as intended -- which is not always the case (see
according thread).
HTH!
Have a nice weekend!
Cheers
Meino
DM 42 - SN: 00373, Firmware release v.:3.16. / DMCP 3.20. as compiled by SwissMicros
Twenty points to Meino for explaining it almost perfectly.
DM42 SN: 00041 Beta
WP 43S running on this device

HP-35, HP-45, ..., HP-35S, WP 34S, WP 31S, DM16L
Hi Walter,
thanks a lot!
For a non native speaker I am twice times happy about your points!
Have a nice weekend!
Cheers
Meino
DM 42 - SN: 00373, Firmware release v.:3.16. / DMCP 3.20. as compiled by SwissMicros
Flag 26 only controls if the BEEP sounds can be heard (SF 26) or not (CF 26); there are no key-click sounds.
While not as descriptive as Meino's excellent description of feedback, hopefully this is clear about the purpose of the Flag 26.
--bob p

DM42: β00071 & 00282, DM41X: β00071 & 00656, DM10L: 071/100
Posts: 782
Joined: Tue May 02, 2017 5:48 pm
Location: United States
Contact:
I believe there is also a sound enable/disable setting somewhere in the SETUP menu. That has to be enabled, AND flag 26 set, in order for sound to be produced.
(QUIET mode is equivalent to CF 26.)